Traveling to a Music Festival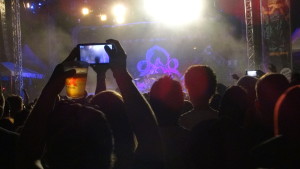 I took a trip to another city to attend a 3 day music festival with family and friends. As a person with mobility issues, I have to take into account how I am going to navigate my environment. At home, I have time to figure things out. On the road, I have to be fluid and mobile. I was flying, so that meant cars, shuttles, planes and airports.
The festival featured over 80 bands spread over 3 days. There where 5 stages; one in an indoor arena, and the 4 main stages set far apart in dirt lots. The parking was distant, lots and lots of people, and 10-12 hour days with no re-entry — it was challenging for the able-bodied people, let alone me. I saw lots of my mobility-challenged friends making their way, I respect them for what they take on. The people at the festival were universally sweet and kind to me. And of course, my family and friends are always so beautiful in their care and awareness of me.
Here is what I used on my adventure —
GoPed KnowPed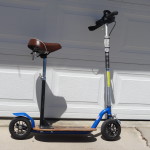 GoPed builds such an awesome kick scooter. I have ridden mine for a couple of years, taken it everywhere and it even ran it over with my RV. Still riding like a champ. I modified mine to have a seat, and right before the trip I finished seat-post mod.V2, the folding seat-post. It was perfect.
Now I can fold both the handlebars and the seat, put it in a bag and hand it to special handling people who load the baby scooters and strollers on the plane. Get it back when I get to my destination. Unfold it, put the carry bag in my Schwinn folding basket, and off I go. This scooter is PERFECT for shopping, airports, public spaces. I can push it forward or back, turn very tightly, and pick it up and carry it over curbs.
Folding Cane
My lightweight folding cane is great. I bought it on Amazon. I added a carabiner to the wrist strap and that allowed me to clip my cane to the crowd barriers that I was generally leaning against during the concerts. That way I could keep track of it and easily grab it and use it to lean on for a few minutes when I needed to. I used the rubberized wire tie to keep the cane together when it was folded.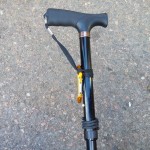 Folding tripod seat
3 legs, light-weight, easy to carry and easy to set up and use, even in tight spaces. Even in a standing crowd, I used this to sit down whenever I needed to. It was really was a lifesaver.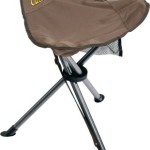 Backpack
This small backpack has adjustable loops and I was able to carry the folding chair across the pack when I was walking. Held all my concert supplies as well. Worked perfectly.