Month: October 2015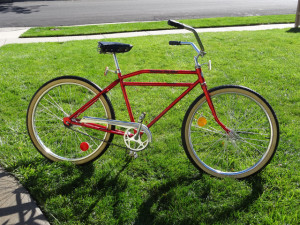 This past week has had several good rides. Threw my scooter in the car and ran it up the hill to the garage, about 4 miles. Scootered home then scootered back when it was ready.
Picked up a beautiful vintage beach cruiser in excellent condition this week. Did a little research and found out this is one of the original beach cruiser frames. You can read here if you want more info on how these bikes came to be, it's interesting. Wasn't really looking to buy a bicycle, but we came across it and jumped. The ride is really smooth and the bike feels long and sleek. Really feels good in turns.
I put in several days on a project scooter I have, a EW 36, and FINALLY got it running. It is an interesting design, with a full complement of turn signals, horn, lights, tail lights — and wires everywhere. Took a while but I identified the wires and got a new controller and started hooking things up. Tested the throttle, good. Tested the motor, good. Replaced the controller and then chased down a bunch of bad connections.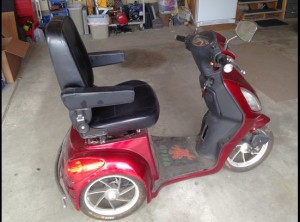 When the wheels finally turned I was thrilled. It has been a lot of work to understand how to check things and what to check. I still have some work to do on it but it is working great now. I took it for a few short rides and then today I took it out for for 4 or so miles. It's a very comfortable ride with the big wheels and big lazy boy seat.
This project should be finished soon. I have an exciting project waiting for me and I finished another project right before this one that I have yet to share.
Good things are happening!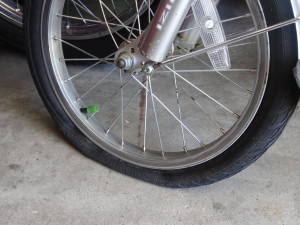 Finding information about mobility and urban riding has not been easy for me. There has been a lot of learning by trial-and-error. I realize that it is a small segment of the population who share these interests and concerns, but I know there are people like me. That's why I share what I am experiencing, so someone like me who is looking for information can find more information.
Recently someone in our community was using a wheelchair on our urban train and got their wheel caught in the tracks while crossing. Unfortunately a train was coming and he was struck and killed. Using mobility devices includes dangers, and for those of us who use them it is serious business.
Working on a new piece of safety equipment for myself right now. Once I get further along I will share. My friend and I came up with an idea and it's been fun to try making it. We have ordered parts and will begin prototyping soon. I am excited.
Been continuing to ride and been thinking about how maintenance is a key element to factor with any device. This week I replaced a faulty throttle on my Trailz, so that is back on-line again. Found a broken rear spoke that needs replacing on my EZGO bicycle. And I need to make some decisions and move ahead with my battery configuration upgrade on my Lyric, or should I say eBikeboard, scooter. Got my first flat on the Lyric the other day, goathead sticker. They are brutal in the spots where the weeds have been left to grow. Also picked one up in the front tire of the EZGO, so two flat tires in one week. I run Schwalbe Marathon Plus tires with puncture protection, still got me.
With the weather changing, I am heading into the winter riding season, which can be some of the most challenging riding.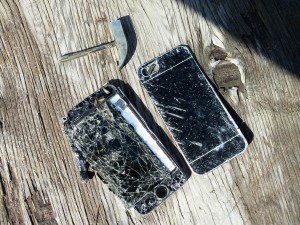 Crashed my Lyric this past weekend. Was starting a ride and I hadn't gone very far when my phone slipped out of the holder on the handlebars. As the phone fell, still operating the throttle, I reached down for it with my left hand. The phone bounced off the deck and onto the road. Still bent down, I didn't want to run it over and I instinctively grabbed the brake with my right hand, which controls the front brake. The Lyric has very good disc brakes that stop on a dime. The front brake stopped the front wheel immediately, but the rest of the scooter was still moving and headed ass-end over the top with me going face first in front of it.
40+ years of motorcycle and bicycle riding has taught me instinctively how to fall. Time kind of slows down and I could see the back end of my scooter with its four 12v SLA batteries coming straight at me as soon as I hit the ground. Luckily it missed me when it landed. (You think experience would have taught me not to grab the front brake rather than fall.)
In the end, nothing was broken other than my pride. Got a bruise or two, but astonishingly no damage to the scooter. The Lyric is a beast. Luckily I had also decided at the last minute to put my helmet on. I didn't think I could crash this scooter, but I learned differently. I can not only crash it, I can almost flip it. I need to pay attention, be careful.
My Schwinn s600 project jumped ahead. I took the 24v motor from my Schwinn s750 and put it on the 36v s600. I like it a lot. It is a peppy scooter on a smaller frame. I haven't ridden it too much to see if I will keep it this way, but so far I really like it.