Making a Grocery Run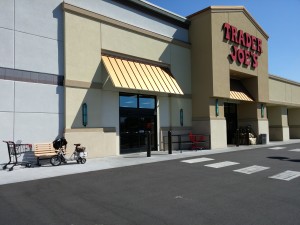 Time for supplies and with the perfect weather it was a great day to make a grocery run. When I need to pick up lots of things my Lyric is a mule, strong and capable. You can see my scooter parked by the shopping cart in this shot, maybe help give a sense of scale.
There are so many features that make the Lyric the scooter to beat. First, I have yet to get a flat. That alone is pretty epic. Suspension is great, brakes are fantastic, speed and acceleration are good. One great feature is you can choose from three speed settings, so when I want to go slow the throttle doesn't jerk me. Another speed feature, and one I never thought I needed but now that I have it I use it all the time, cruise control. Almost sound ridiculous to have cruise control on a scooter but it is so useful.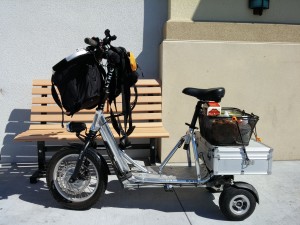 The Lyric also has a headlight and tail light as well as a brake light. There is a parking brake.
It's hard to tell in the picture, but there is a front basket that is full. There is a basket on the back on top of my battery box (the battery box is a mod I will detail later) that is full, and on this run I also carried two 24 packs of soda on the running boards.
I drove the scooter to the store, I drove the scooter in the store and I drove it home. I love this scooter.