New Project: Schwinn S600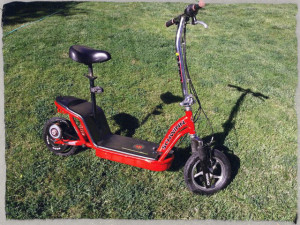 Picked up a new project scooter this past week. I keep saying that I have reached my limit but then another one comes along and… This scooter is interesting. It has rear suspension and a disc brake, is 36v and it a couple of inches shorter than my Schwinn S750. My Quazar scooter is short by a couple of inches than the S600, it's the shortest.
I popped a battery in and it runs great, but needs a few repairs. I believe it is a 2005. It is fun and comfortable to ride. I should fix it and sell it but part of me wants to keep it. I love the fire engine red, shorter frame and back shock. The handle bars are also 3/4″ shorter than the S750.