Crash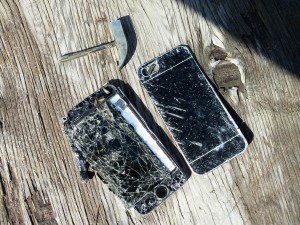 Crashed my Lyric this past weekend. Was starting a ride and I hadn't gone very far when my phone slipped out of the holder on the handlebars. As the phone fell, still operating the throttle, I reached down for it with my left hand. The phone bounced off the deck and onto the road. Still bent down, I didn't want to run it over and I instinctively grabbed the brake with my right hand, which controls the front brake. The Lyric has very good disc brakes that stop on a dime. The front brake stopped the front wheel immediately, but the rest of the scooter was still moving and headed ass-end over the top with me going face first in front of it.
40+ years of motorcycle and bicycle riding has taught me instinctively how to fall. Time kind of slows down and I could see the back end of my scooter with its four 12v SLA batteries coming straight at me as soon as I hit the ground. Luckily it missed me when it landed. (You think experience would have taught me not to grab the front brake rather than fall.)
In the end, nothing was broken other than my pride. Got a bruise or two, but astonishingly no damage to the scooter. The Lyric is a beast. Luckily I had also decided at the last minute to put my helmet on. I didn't think I could crash this scooter, but I learned differently. I can not only crash it, I can almost flip it. I need to pay attention, be careful.
My Schwinn s600 project jumped ahead. I took the 24v motor from my Schwinn s750 and put it on the 36v s600. I like it a lot. It is a peppy scooter on a smaller frame. I haven't ridden it too much to see if I will keep it this way, but so far I really like it.