EW 36 Revival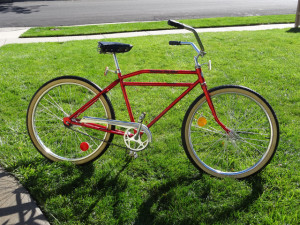 This past week has had several good rides. Threw my scooter in the car and ran it up the hill to the garage, about 4 miles. Scootered home then scootered back when it was ready.
Picked up a beautiful vintage beach cruiser in excellent condition this week. Did a little research and found out this is one of the original beach cruiser frames. You can read here if you want more info on how these bikes came to be, it's interesting. Wasn't really looking to buy a bicycle, but we came across it and jumped. The ride is really smooth and the bike feels long and sleek. Really feels good in turns.
I put in several days on a project scooter I have, a EW 36, and FINALLY got it running. It is an interesting design, with a full complement of turn signals, horn, lights, tail lights — and wires everywhere. Took a while but I identified the wires and got a new controller and started hooking things up. Tested the throttle, good. Tested the motor, good. Replaced the controller and then chased down a bunch of bad connections.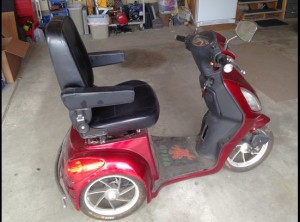 When the wheels finally turned I was thrilled. It has been a lot of work to understand how to check things and what to check. I still have some work to do on it but it is working great now. I took it for a few short rides and then today I took it out for for 4 or so miles. It's a very comfortable ride with the big wheels and big lazy boy seat.
This project should be finished soon. I have an exciting project waiting for me and I finished another project right before this one that I have yet to share.
Good things are happening!