Urban Riding and Mobility Challenges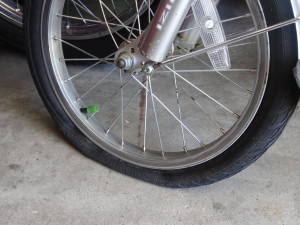 Finding information about mobility and urban riding has not been easy for me. There has been a lot of learning by trial-and-error. I realize that it is a small segment of the population who share these interests and concerns, but I know there are people like me. That's why I share what I am experiencing, so someone like me who is looking for information can find more information.
Recently someone in our community was using a wheelchair on our urban train and got their wheel caught in the tracks while crossing. Unfortunately a train was coming and he was struck and killed. Using mobility devices includes dangers, and for those of us who use them it is serious business.
Working on a new piece of safety equipment for myself right now. Once I get further along I will share. My friend and I came up with an idea and it's been fun to try making it. We have ordered parts and will begin prototyping soon. I am excited.
Been continuing to ride and been thinking about how maintenance is a key element to factor with any device. This week I replaced a faulty throttle on my Trailz, so that is back on-line again. Found a broken rear spoke that needs replacing on my EZGO bicycle. And I need to make some decisions and move ahead with my battery configuration upgrade on my Lyric, or should I say eBikeboard, scooter. Got my first flat on the Lyric the other day, goathead sticker. They are brutal in the spots where the weeds have been left to grow. Also picked one up in the front tire of the EZGO, so two flat tires in one week. I run Schwalbe Marathon Plus tires with puncture protection, still got me.
With the weather changing, I am heading into the winter riding season, which can be some of the most challenging riding.