Category: Urban Riding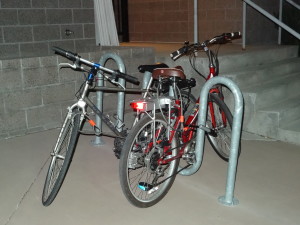 I live within a couple miles of the local soccer stadium and sometimes we ride in for games. When I am riding fast and over obstacles I like the bigger fatter tires of my 26″ eZip Trailz. The Trailz is one of the cheaper electric bikes made, but they made a lot of them and there is a lot of information and parts available.
Personally I like riding mine. I can get about 20 miles out of one battery pack. I changed the battery connection on mine to Anderson connectors so I can use the batteries on other vehicles as well. I changed the plastic pedals for some metal ones I picked up at a yard sale.
Riding in an urban environment is challenging for a number of reasons. There are many hazards. The road has screws, glass, stickers, curbs, holes, rocks, etc. The biggest danger is cars, there is no arguing with mass. But people who are not paying attention, people not expecting you to be there and people who think the road is for cars and not bikes, they are the biggest threats.
Every time I hear someone talking about taking public transportation and riding bicycles I chuckle. Do you really intend to ride or do you intend other people to ride? If you ride you know it's nuts.
So here's the perfect example about bicycle riding lip service. We rode our bicycles to the soccer game the other night. Over 20,000 seats. Do you know how many bicycle parking spots? 4. We used two.
Here's the stats on my electric bicycle:
26″ Ezip Trailz Electric Bike:
Motor: 450W DC Brushed Earth Magnet
Ezip Trailz Electric Bike requires EV-rated, SLA-type, rear-rack mounted, 24V rechargeable battery (included)
E-bicycle requires 6-8 hours to charge battery completely
Charge System: UL-listed Currie Smart Charger with LED status display
Electric Bicycle Controller: exclusive Currie Electro-Drive TM 24V, fully-potted with power gauge function
Derailleur: Shimano rear
Grip Shift: SRAM
Shimano 7-speed freewheel
Ezip Electric Bike User Controls: power on/off switch, easy-access charger port in removable battery pack, twist throttle with PAS+TAG function and battery gauge
Maximum E-Bike Speed: 15 mph (rider weight, rider input and terrain contingent)
Range: 15-22 miles (rider weight, rider input and terrain contingent)
Wheels: 26″ alloy rims
Frame: exclusive Currie hi-ten steel frame with Bottle Bosses, fender and rack mounts
Fork Type: suspension
Handlebars: mid-rise bar and stem
Saddle: comfort design with quick-release seat post
Brakes: alloy linear pull with alloy brake-inhibit lever
Maximum Weight Capacity: 240 lbs
Dimensions: 54″L x 18″W x 48″H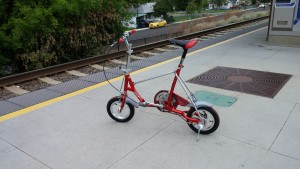 I often ride the train to get places. To get to the train station I ride a folding bicycle. It takes me about 10 minutes. Then I fold the bike up and get on the train. With the bike folded I can keep it with me in the seat, it's great. When I get to my stop, I can unfold the bike and ride farther still.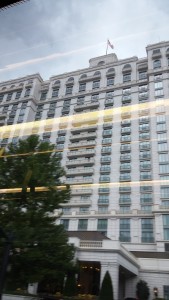 I took a ride the other day and snapped a few pictures out the window. This is mobility to me. The ability to go, to do, to get places.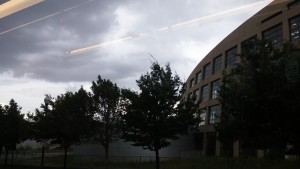 My folding bike is great. It has 12″ wheels and is a bit wild to ride, which to me makes it more fun. It is a one speed but is a pretty good gearing, I can ride most everywhere without much trouble and it actually goes pretty good. I have never seen another one exactly like it. It is a great ride, folds quickly and fits in the trunk. Super easy to transport. I have taken it with me on several RV trips and it allows me to ride wherever I go.